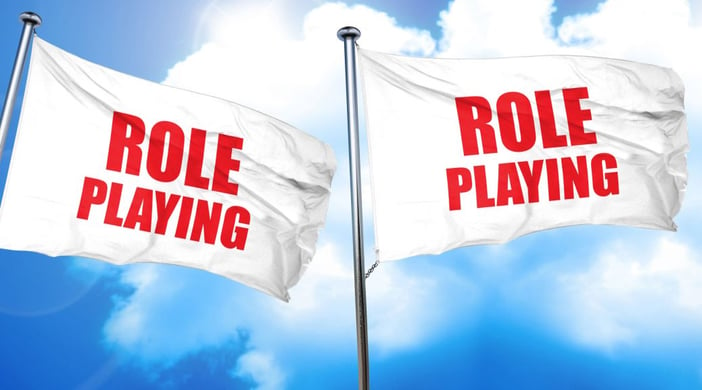 Every day that you don't practice is one day longer before you achieve greatness – Ben Hogan
Sales professionals need to master a wide range of skills and behaviours to succeed at their job. From negotiation skills and rejection handling to product knowledge, sales people need to work and train on multiple soft skills to be at the top of their game!
For this reason, it's very important that companies invest in training to guarantee their sales staff are putting the time and effort required to turn their weaknesses into strengths. In this article we want to explore role paying as a beneficial tool you should incorporate in your training programme.

Role play is a well-known activity that it's more commonly used in the interview process of sales staff. A role play is an interesting exercise where participants get exposed to a real-life scenario. When this exercise is used during the interview process, the idea is to see how the candidate will approach each situation while offering interviewers a better understanding of the capacity of response of each applicant.
However, role play can also be used during the on-boarding and training stage of your sales force. Despite it's estimated that only 21% of sales teams use this approach, the correct implementation of a role play can make a major impact on the performance of your sales teams.
Why should you start involving role play in your training modules?
Practice makes the master
Role plays are an excellent way for sales people to practice their responses in situations that can be taken from real life scenarios. They present a great way for managers to assess their staff behaviours and identify their strengths, weaknesses, and stumbling blocks. By practicing with role plays, sales people get the opportunity to build on their confidence and feel comfortable in different situations.
They can be adapted to your company values and products
As any training exercise, role playing can be designed to tackle specific skills or behaviours that are affecting the performance of your team. They represent a great guide on how to best approach the most common scenarios that your staff can be exposed to and what would be the ideal response based on your company values.
Practice how to respond to difficult events
Role plays are an effective way to practice how your team should respond to difficult scenarios, such as unreasonable request or unexpected demands. They also are a great way for sales people to discover how to put in to action tried-and-tested closing and negotiating techniques. You can use your top performers to be present at this sessions and asses your new hires on what has worked best for them.
At CPM we believe in growing and developing our people from within. For us training is a critical ingredient for our success in delivering sky rocketing sales on behalf of our clients. If you'd like to know more about our training programmes and how your brand can benefit from our skilled trainees, contact us today at +353 (0) 1 7080300 or email us at info@cpmire.com
References:
https://www.leadfuze.com/sales-role-play/
https://blog.hubspot.com/sales/sales-negotiation-role-play-exercises
https://social.eyeforpharma.com/commercial/10-role-playing-tips-increase-sales-success