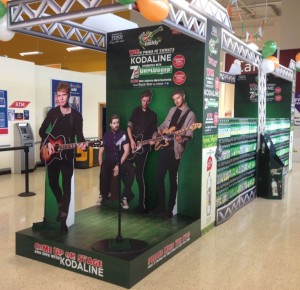 True Strategic Partnership is the overarching requirement for excellent delivery:
Every year CPM works closely with Britvic to plan in-store execution for the annual Britvic campaign calendar. This is a core strategic plan which ensures that all sales and merchandising activities are aligned to Britvic strategic goals and in best position to beat the competition – every time.
Jointly, CPM & Britvic set out in 2014 to become the partner of choice within the Soft Drinks Category based on sustained excellence in their trade support service. This as a team was achieved through hard work, ambition and creativity in store that ensures maximum customer engagement with their brands and by default sales growth on behalf of their retail partners.
In recently winning the prestigious "Best Merchandising & In-Store Support" category at the 2014 Checkout Awards, the Irish Retail Industry has now independently acknowledged the CPM/Britvic team's standards as No. 1 in the country. So, how did they do it…?
Taking the hugely successful Kodaline campaign launched in March 2014 as an example, there are 5 key tenets CPM & Britvic feel are necessary to execute a successful campaign in–store in 2015
1. Ambition:
CPM was set the task by Britvic to execute in store the largest campaign for 7up in recent memory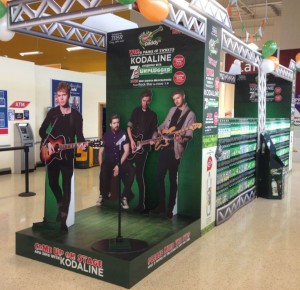 –the In-Store Kodaline experience. This was a major impact promotion with substantial in-store theatre planned to fully engage consumers with the 7-UP brand. The aim was to drive fun disruption in-store via an interactive Kodaline stage which was developed for the top 15 Tesco stores. This stage offered consumers the chance to interact with the display and invited consumer to step up onto the stage to take a 'selfie' with the band. 7-Up Kodaline was perceived as a bold, ambitious campaign that if pulled off would be unbeatable in industry in terms of In-Store brand impact.
2. Planning :
Detailed, coordinated planning of all trade initiatives were carried out between the CPM Field & Britvic National Account Management teams. The CPM/Britvic Sales Development team influenced store managers in advance of launch to secure best position in store for the 7-UP/Kodaline stages. An important aspect of the sell-in was to secure the maximum footprint for 7-UP stock holding "on the floor" in order to maximize impact and ensure optimum stocks were available at the point of purchase for the consumers engaging with the activity. CPM collaborated as true partners with Britvic Ireland to ensure no stone was left unturned in planning executional excellence.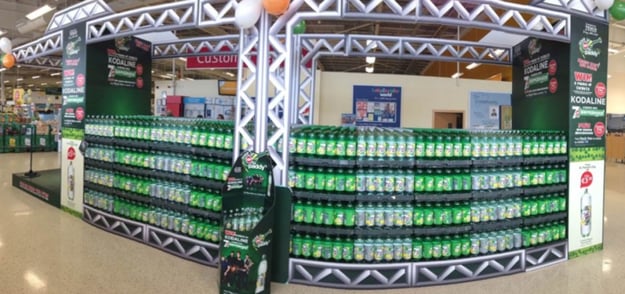 3. Execution and maintenance:
The CPM/Britvic Sales Support Executive team was coordinated with the assistance of the CPM Tactical Merchandising division to meet the extra volume deliveries to every store and immediately set about the construction of the Kodaline Sets. A combination of early starts in store, assisted by several layers of management from both Britvic & CPM enabled the displays to be built with surgical precision and ensure swift completion and minimum consumer obstruction. Once in place, a thorough replenishment merchandising schedule was drawn up to guarantee stock availability and visual quality of the displays.
4. Consumer impact and customer response: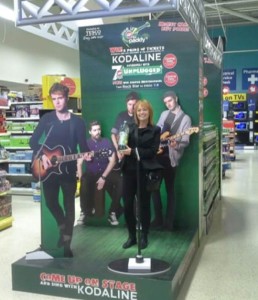 There were incredible displays built throughout the Tesco Extra Estate that generated extraordinary levels of consumer engagement in store. The interaction with shoppers of all ages taking selfies on the Kodaline stage was unprecedented, from kids, to mums, to hardcore Kodaline fans.
The Kodaline stage was a bold, daring and unique shopper marketing experience that well exceeded all expectations. The Kodaline Stage was viewed as best in class and not only was it one of the main campaign examples that led to the success of winning Best Merchandising and In-Store Support for CPM and Britvic at the National Checkout awards, it was also a finalist in the National Checkout Awards for Best Shopper Marketing campaign.
5. Social Media: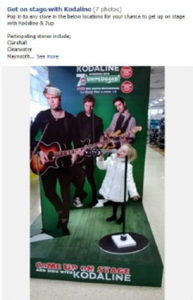 From a Social media perspective there was a huge impact particularly via Twitter and especially Kodaline fans. The viral sharing of selfies on stages in stores caused such a reaction that Kodaline themselves posted their own tweet about the stage to their 127,000 twitter followers. This tweet was a massive win for the campaign as it further encouraged the viral sharing of fans selfies as well as stating where the actual stages were and in what stores.
In summary, excellence in In-Store execution can only be achieved by a coordinated approach between Brand Owner and Field Marketing Agency. Thinking big & bold in terms of concept, best in class design & production of POS, surgical precision in terms of planning & execution and the harvesting of already built in store relationships will result in successful, pioneering campaigns like Kodaline – placing Britvic firmly as a brand activation leader in the Irish retail landscape.