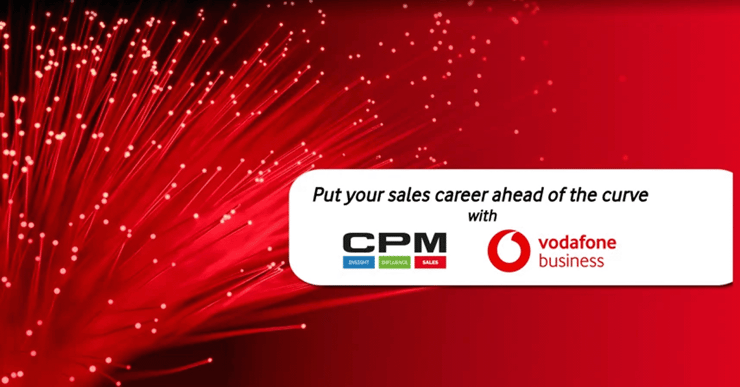 CPM and Vodafone Business have teamed up to create the ultimate partnership in Telecoms Business Sales. We have a wide range of sales jobs available for professionals that are looking to grow their sales career. We are looking for ambitious and extremely motivated individuals to sell fixed line and mobile services to Small to Medium Enterprises on behalf of Vodafone.
Why you should join our team?
Represent one of the world's leading Telecoms brands while working for Ireland's largest sales & marketing company
Sell market-leading products that are at the cutting edge of the modern telecoms industry
Excellent salary, generous allowances and uncapped commission
Fast-tracked career progression for outstanding professionals
Ongoing professional and personal development through our CPM Sales Academy, Mentor initiative and JET Programme
Some of the roles we have available are:
Business Development Managers
We are currently recruiting for Business Development Managers to build lasting relationships with small to medium sized business (SME) customers and promote the Vodafone portfolio of products. The successful candidate will be tenacious, extremely motivated and will have relevant experience in a sales environment with a proven, successful ability to sell. CPM Ireland have a passion for our people, our B2B teams' Team Leaders and Management structure are grown from our internal teams as we believe they best embody the CPM values and the Vodafone brand.
Package
• €32k basic salary
• €4,800 car allowance per annum
• 50% bonus (uncapped) commission structure
• Company fuel card and company laptop
• €10/day expenses (lunch, mobile, parking and tolls)
• Business hours 9-5 Monday to Friday
• Career development and progression (92% of our Managers being recruited from within)
To read more about this fantastic job opportunity or to apply, click here.
If you'd like to speak with a member of our recruitment team, please call 1800274737 or email recruitment@cpmire.com
Join our team and put your career ahead of the curve!