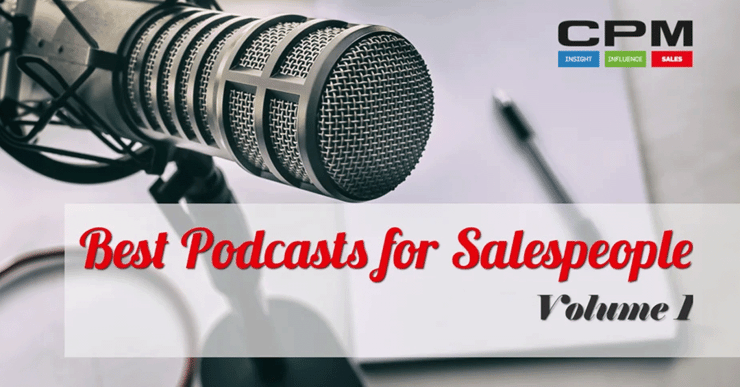 If you are looking for ways to stay updated on all the trends in the sales industry or refresh your sales techniques, CPM has you covered!
As a monthly blog post series, we will be gathering the best sales podcasts to help you learn from some great experts and sales leaders. Podcasts are very beneficial when trying to learn or brush up on a particular area or skill, in an entertaining yet informative way. There are different podcasts to cater for all tastes, so have a listen to our suggestions and let us know which one is your favourite!
In the first volume of this series, we bring you 5 insightful podcasts for sales representatives:
Sales Pipeline Radio
With more than 190 episodes, this podcast features the brightest minds in B2B sales and marketing, sharing secrets to driving greater volume, velocity and conversion of sales pipelines in any industry.
The podcast is hosted by Matt Heinz and covers the entire pipeline –demand generation, lead management, sales effectiveness, technology and more– all focused on helping listeners to find, manage and win more business.
https://salespipelineradio.com/
The Ziglar Show – The True Performance podcast
The True Performance Podcast is an initiative started by Zig Ziglar himself with the mission of providing inspiration to everyone on a weekly basis. With 688 episodes, the series look to help listeners to unlock the part of themselves that holds the power for their life. The podcast is hosted by Kevin Miller and Tom Ziglar, and interviews some of today's most influential leaders.
Sales Gravy Podcast
The Sales Gravy Podcast has been described as "passionate, motivating and essential for Sales Professionals and leaders who want to win and win big!" Jeb Blount, the bestselling author of People Buy You, is the host of this podcast.
https://www.salesgravy.com/jeb-blount-sales-podcast
The Sales Evangelist
Donald C. Kelly is the host of this podcast, where he offers sales education in an entertaining manner. The team produces 5 new episodes each week on a variety of sales topics and so far they have published 1,115 episodes! They have a wide range of content so there is something for everyone.
Sell or Die Podcast
Best-selling author Jeffrey Gitomer and sales expert Jennifer Gluckow discuss the art and science of selling with the top leaders in sales, business, marketing and personal development.
https://www.sellordiepodcast.com/
If you are a passionate sales professional, looking for the next step in your sales career, why not applying for a role at Ireland's Leading Field Sales Company? At CPM we are always seeking for sales talent to drive sales on behalf of our clients. If you'd like to be part of CPM in Ireland contact our recruitment team at recruitment@cpmire.com or call 1800 27 47 37.