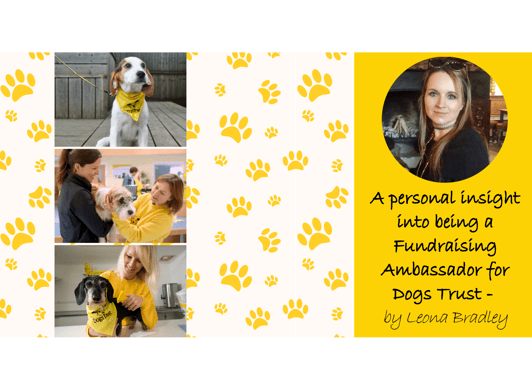 In our latest blog post, Leona Bradley shares her experience as a Fundraising Ambassador for Dogs Trust. Her journey with CPM started more than a year ago and since then Leona has progressed her career to Team Leader and gained valuable experience while broadening her skill set. Coming from a retail background, she jumped into direct sales and loved the freedom of working in the field, as well as raising funds for a very worthy cause.
Keep reading this article to get some great personal insights from Leona about what being a Fundraising Ambassador for Dogs Trust entitles.
Why did you choose to be an FSR?
Coming from a very structured and controlled retail environment, I was initially attracted to the freedom of planning my own day, setting my own personal goals/targets and then being able to execute an efficient plan to ensure I achieved my desired goals, whilst holding myself accountable for my own results. It's almost like working for yourself, as I say, "you get out of it, what you put into it"! Being a people person who loves adventures, the idea of being out on the open road and not being stuck in an office or shop, really intrigued my interest. Getting to meet new interesting people every day and chatting to them about all sorts -from dogs to doorframes- is a really enjoyable job to have!
Why did you choose to work on behalf of Dogs Trust?
I chose to be a Fundraising Ambassador for Dogs Trust as I am an avid animal lover and I'm passionate about making a difference in the world. Ok, I'm not exactly helping to change the world, saving one dog's life won't change the world, but for that one dog you help save, you've changed their world forever! Dogs Trust manage to do this for hundreds of dogs every year and it feels very special to be part of a team who are raising the much-needed funds to enable Dogs Trust to continue to do all the fantastic work they undertake. It's just a very rewarding job to have. It's something that matters, something that makes a positive difference and that is a feeling you won't be able to experience in many other roles.
Describe a typical day as a Fundraising Ambassador
Well first off, let me say that every day is in fact different. You never know what sights you'll see or what kind of people you'll meet, which makes it quite exciting! The role of a Fundraising Ambassador for Dogs Trust involves having the freedom and discipline to plan your day, from the route you'll take to the journey back home. My day basically starts out with doing up a daily plan, choosing my rural route and planning estates for the evening shift, setting out my goals and tasks and heading off out then on the open road to begin my daily adventure! I love getting to travel to different parts of the country, seeing the sights along the way and getting to chat with so many people and of course, meet their lovely dogs! Seeing so many breeds of dogs and different personalities of both dogs and their owners, really make it an exciting way to spend your day. What a fantastic perk that you actually get paid very well for chatting to people and enjoying their company! It really is so rewarding when someone offers to sponsor a dog with you. The feel-good factor from it is exhilarating and it gives you the drive to get more sponsors on board to raise money for such a worthy cause. I find that people are so responsive and supportive when you knock on their door to talk about dogs, it's great to hear all the positive feedback people give you on the work we do for Dogs Trust.
What are the main perks/benefits of the job?
Oh, where do I start? There are so many benefits of being a Fundraising Ambassador for Dogs Trust, besides the generous package of €21,000/year salary, with potential earnings of up to €31,500 when you consider the very achievable commission/bonus structure, along with a mileage concession of 12c per mile available.
Initially what attracted me to the role was the freedom of the open road and the hours of 12-8pm with every weekend/holiday off. However, once I learned about the extensive work that Dogs Trust do for poor defenceless dogs, the satisfaction you get from knowing that you are on the ground getting them the funding they need to continue to do all their amazing work is just as rewarding as any wage or commission earned!
What are the main challenges of the role?
As any new job, this role comes with some challenges. It can take some time and some rejections to become fully confident in your pitch and your planning. I remember my first day on the field, I had the opportunity to go out with Liam, who was the Team Leader at the time. God, I could hardly open my mouth at first! Liam was very supportive and encouraging and eased me into talking to people by explaining the Sponsor a Dog campaign, and I found that the more people I spoke to, the easier it got, as they would give positive feedback on my pitch and I felt my nerves subside. I had really gotten into the role and enjoyed talking to people then and by my 3rd day, I managed to secure 8 donors in just over 2 hours, which I have to say at the time, felt like a massive achievement, the people were actually so nice, and it really started to feel like an enjoyable and rewarding job to have from there on.
I would just like to add on a personal note, when researching for the role, I was attracted to the core values of CPM as a company and was impressed by the way they promote internally, as I am always eager to progress in any role I undertake and get promoted, as I have done with this role so far. I was promoted to Team Leader 8 months into my role as a Fundraising Ambassador and I'm loving the extra responsibility and rewards of growing and training/motivating a strong team and I intend to get to the next level of being an RSM in the near future. The opportunities are there for the taking, and with all the support and training CPM provides, you really can progress your role within the company. So, if working your way up the career ladder is your driving force, then this is the company for you!
Ok, so after reading my blog, you're probably sitting there at your desk thinking "Is this the job I've been searching for?" Well as you sit there looking out, take a minute to think of your own little dog and imagine them in distress, feeling unloved and unwanted and scared. Wouldn't you want to do anything in your power to make them feel safe and loved as part of the family? Well that's what Dogs Trust do, and without the guys on the ground, they couldn't save so many dogs lives and get them to their forever happy and loving homes. As a guy once said to me, "I will sponsor a dog with you, because they need you to keep going and be there for them, as they can't talk for themselves" and I thought, so simple but yet so true. The feel-good factor you get from being a Fundraising Ambassador for Dogs Trust is just as rewarding as the generous remuneration package and the sense of worth you get from doing a job that actually matters. Hearing the news of how many dogs are saved from destruction and placed with loving families, no longer fearing their past, is the biggest reward of the role! So, stop sitting staring at your computer and come be part of one of the leading sales teams, having the freedom to work for your own success and reaping the rewards you get from working for such a fantastic company! You may be on the ground, but the sky really is the limit!
Would you like to be part of Leona's team and become a Fundraising Ambassador for Dogs Trust? Then contact our recruitment team by sending your CV to recruitment@cpmire.com or apply directly on our jobs site https://jobs-cpmire.icims.com/jobs/2110/fundraising-ambassador-dogs-trust/job