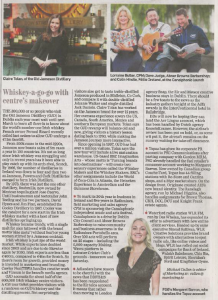 Look Who's Talking About CPM
At CPM we have been really busy in the last couple of months and it has grabbed the media's attention!
If you haven't heard what's been happening, well we've had a realm of activity including: Celebrating our 30 year anniversary by sponsoring Canalaphonic Festival – local festival in Rathmines, sponsoring the Sales Practice Survey in conjunction with The Sales Institute Ireland and Amárach Research, signing the Diversity Charter Ireland and most importantly welcoming our new Commercial Director – Ciara Kellett who has a wealth of Retail experience to bring to CPM.
CPM In the News Coverage:
1. CPM has Appointed a New Commercial Director
At CPM we are delighted to have welcomed Ciara Kellett as our new Commercial Director. Ciara brings 20 years' experience in the retail FMCG and foodservices industries within Ireland to her new role, which will be invaluable to the business and our clients. This news was covered by the Checkout Magazine
2. CPM Celebrates its 30th Anniversary
As you may have heard, CPM is celebrating its 30th Anniversary and to mark this important milestone, we sponsored the Canalaphonic 2016 Festival which took place in Rathmines on September 24th. A great day was had by all CPM Staff, Suppliers and Clients at a family fun day with activities organised for all ages! With this sponsorship CPM ratifies its commitment with local communities. Take a look at some highlights from the day!
The sponsorship of the festival also featured in the Irish Independent (see Picture below)
and an interview with Lorraine Butler (Managing Director at CPM) in the Checkout Magazine.
3. CPM sponsored the Sales Practice Survey
At CPM we are Famous for Sales so we couldn´t miss the opportunity to take part and sponsor the Sales Practice Survey, by the Sales Institute. The aim of the research is to provide further insights into what practices have been used to deliver more sales during 2016 and what is the outlook for 2017. This survey was conducted by the Amárach Research and completed by 130 Sales leaders. To have a look at the results of the survey, click here.
4. CPM's Success at the Checkout National FCMG Awards 2016
More than 250 executives from the Irish retail and FMCG industries attended the seventh Checkout National FMCG Awards, which took place Friday, 30 September at the Mansion House in Dublin
CPM was in attendance after being shortlisted for an award, and we are delighted to announce that it was another fantastic win, as our CPM/GSK team took away the "Best Sales Team / Field Sales Support" award.
Stay tuned to find out more CPM news over the coming months!