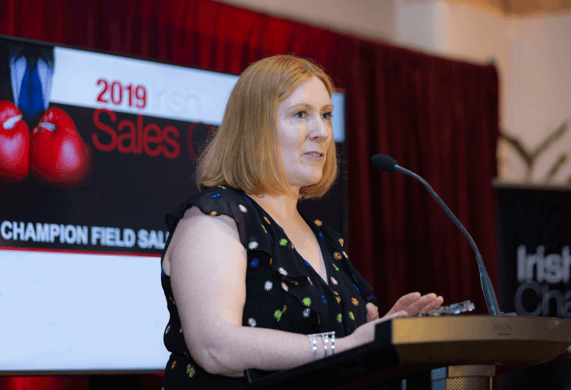 Marie Willoughby, National Sales Manager for CPM's Charity Accounts, has been recognised at the Irish Sales Champion Awards as the Champion Sales Manager of 2019. After she received this well-deserved accolade, we had the opportunity to talk with Marie about what winning this prestigious award means to her and how she managed to achieve it. Here is what she had to say:
What winning formula did you apply to achieve this recognition?
This performance and ultimate recognition was achieved through hard work. By that I mean going back to basics and starting with one word, my Vision - Quality! The quality of Recruitment, the quality of Fundraiser, the quality of Leadership. I believed that if I improved these, performance would follow and it did. Getting the right people in the right place was the most important factor in achieving this win, supported by creating a culture where hard work is rewarded and recognised, through team leagues, company awards and development opportunities.
How did your team support you to become a top sales manager?
When you set high standards at the Recruitment stage, you invariably hire supporters. When you have low standards, you invariably hire detractors. I always look for people that project a positive can-do attitudes, values of honesty, integrity, respect and trust. Consequently the team consists of like-minded positive, committed and passionate professionals who share goals and values so we're all driven by a Unity of Purpose and there for each other. Our MD Lorraine Butler once made a comment about the importance of "surrounding yourself with people you trust" in a position of leadership. I trust my team implicitly and give them the freedom to excel, thereby fostering a culture of support, respect and friendship.
What was the greatest obstacle you had to overcome and how did you overcome it?
Fear of Failure. At each stage of my career when I've applied for the next opportunity, I've always questioned my ability to step up to the plate. This is something I've had to learn to accept over the years as a characteristic of my personality and having high expectations of myself. I now accept this as part of each growth stage in my career and instead of allowing self-doubt to pervade I remind myself to "Feel the fear and do it anyway" in the words of Susan Jeffers and reflect on Richard Branson's advice "If someone offers you an amazing opportunity and you are not sure you can do it, say yes – then learn how to do it later!" It must work cos here we are!
Describe your proudest day on the job
Gosh - there are too many to narrow down to one! Obviously being nominated by CPM and then actually winning Irish Champion Field Sales Manager 2019 is right up there. Adding value to CPM and my Clients' Businesses and receiving positive feedback is always a great feeling. However, my proudest days are when my team members achieve – for example winning Fundraiser of the Month, Employee of the Quarter or Team of the Quarter, all of which highlight the brilliance of my team members, recognise their invaluable contribution and raise their profile within the Business. And sometimes the individual wins create the proudest moments, such as when someone starts to doubt themselves but you believe in their ability and coach and reassure them until they turn it around and you see the performance, self-esteem and belief return. That's the best feeling!
What do you consider are the necessary skill sets that a Manager should have to achieve this recognition?
Personal values – strong moral compass and treating others as you would like to be treated
Leadership

– ability to inspire others, create a shared vision, foster unity of purpose, promote teamwork, empower people to own their performance so as to deliver both their career and personal goals

Communication

– clear and concrete – people should always know where they stand and be accountable for their performance and behaviour

Drive for Success

– you have to want to be the best at what you do and go the extra mile to get there – have ambition, courage and resilience and not be afraid to move outside your comfort zone

Celebrate success

– behind a winning manager is a winning team - work hard, play hard, have fun where possible!
What did winning this award mean to you?
Because of the culture of the Company I work for, I already knew my contribution at CPM is valued and adds value to the Business which is fantastic. However to be nominated by CPM for this prestigious award is the icing on the cake and to actually go on and win is the cherry on the icing. It's a wonderful feeling to be recognised internally but equally to know you're at the top of your game among your peer group is very satisfying. Winning serves to validate that while the words of Theodore Roosevelt "nothing worth having comes easy" are true, hard work and persistence pays off is also true and winning is a great feeling!
What advice would you give to salespeople that are starting their career in order to achieve the great results you have had along your career path?
Be competitive, determined, resilient and honest. Always do the right thing and treat others as you would like to be treated. Focus on your own performance and targets only – learn from top performers. When you're having a bad day, don't give in – take a break, reflect and resume with passion and purpose. Persistence always pays off. Be prepared to listen and learn. Be humble and remember "Winners never quit and quitters never Win".
CPM is Ireland's leading Field Sales specialist. We are an award winning, omnichannel, outsourced sales agency, with a proven track record for increasing sales not only in Ireland but around the world. We use insight to influence and drive sales through our specialist field sales and marketing teams, contact centres and digital marketing solutions. If you'd like to know more about our successes at the Irish Sales Champion Awards or find out how CPM can help your business to drive sales, contact us at info@cpmire.com or call 01 7080 300.