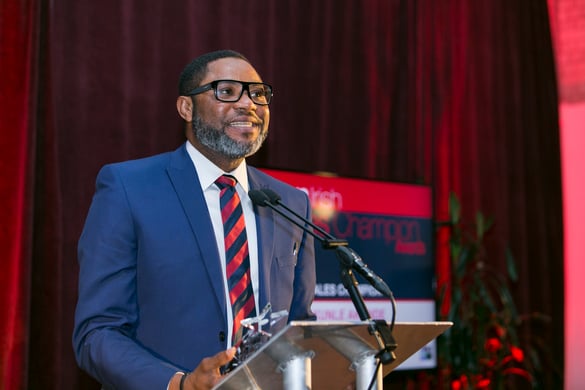 A couple of weeks ago CPM rejoiced in the glory of bringing home 3 amazing accolades for our business. Inside Sales Champion 2018, Best Implementation of Technology (Retail) 2018 and Best Outsource Partner 2018.
Today we chat with one of our winners, Kunle Akande, Mid Market Account Manager
for our eir account who won the Inside Sales Champion 2018.
In this riveting interview, Kunle opens up about why he believes he won the award and what got him to an award winning status in Sales.
What was the winning formula you applied to achieve this recognition?
Eighteen months ago when I moved into the Mid-Market Account manager role, I had to apply the below formula that had worked for me while I was a processor. This formula had helped me to settle well in my current role.
Time Managing(Planning)
Quality
Flexibility
Customer first mentality(Follow ups)
Team player
What have been the tangible results from your endeavours in this successful project?
The level of my sales experience has developed tremendously plus the quality of sales since starting the Mid-M
es. From the mind management/ colour profiling training, I have developed a fantastic customer relationship.arket Account manager role. My processing experience from my previous role has really contributed to my quality sal
The positive results that lead to the awards were from the fantastic team and support from my senior ma
nagement. Most especially, Kevin Thomas and Leonard Hennessy had supported me mentally, developing me towards building my sales talent. When I was down mentally, I received a lot of coaching and training to keep me on form.
Did these positive results come from you solely or from your team's productive efforts?
I can proudly say that I have the greatest team to work with, because we are like a big family that looks after one another. If you are down, there is always someone there for you. Most importantly, they have faith in me and part of the reason I am saying a very big thank you to my Team (CPM -Eir Inside sale Small Medium Business).
What was the greatest obstacle you had to overcome and how did you overcome it?
Coming from a processing role to the sale role without any sales experience was a tough task for me. To be able to convince a customer over the phone and sell to them would need a lot of hard work and convincing. I did a colour profiling training and read a mind management training book that was given to me by my senior manager (Kevin Thomas). I made use of this training to be able to relate well with customers over the phone and win big accounts.
Describe your proudest day on the job?
Winning big accounts to my base and managing them. Receiving testimonies from my customers acknowledging the work I have done for them.
What particular skill sets have you harnessed this year?
Mind Management is very important to what I do. So, I had up skill my emotional management. Secondly, as an account manager, I need to be very accurate on the information I pass to my customers concerning their accounts, I had built and develop my account management kills on how to review accounts within a limited time before contacting customers.
What did winning this award mean to you?
Again, coming into the role of inside sale without any sale experience and winning Irish Sales Award was a fantastic feeling. I can't stop mentioning Kevin Thomas and Leonard Hennessy for giving me the necessary support and training. They also brought the best out of me and I am following their steps until I reach the top. I know my name was on the award but it not only for me. Thanks to my entire team.
What advice would you give to salespeople that are starting their career in order to achieve the great results you have had along your career path?
Success is possible if you have the right mind set and work hard. Never give up if you are willing to succeed. POSITIVE THINKING GOES ALONG WITH SUCCESS.