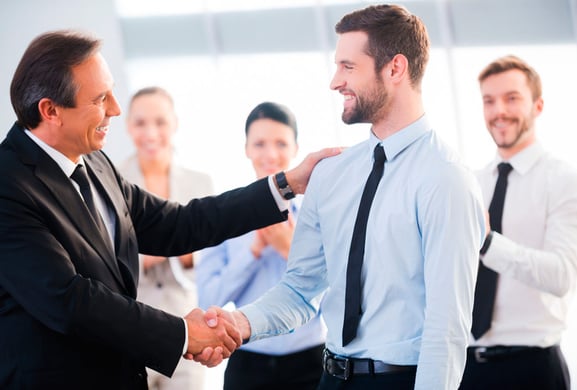 Having great sales managers is the foundation of a successful organisation, therefore there's a big pressure to make the right choice when promoting a sales representative.
Sometimes the best sales reps don't strive as managers, as this role requires a different attitude and skill set from high-performance sales professionals.
If you are wondering which salespeople would make the best sales managers, we have some tips that will help you spot the best talent for the position! Keep reading to find out the top 5 traits that you should look out for when promoting a sales representative to a managerial position.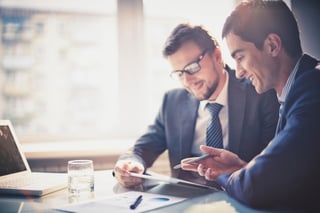 One of the most important indicators that a high-performance rep has management potential is their flair for coaching and mentoring others. A good candidate for a sales management role will be the person that is already sharing best practices and making time to help other team members on objection-handling or any other areas. Another sign you should look for is how well they balance the demand of helping others with hitting their sales targets.
Great managers are not only good at coaching but they are also open to receive constructive criticism. They are always willing to learn and take advice from others. This quality is also very important as current employees that appreciate feedback are more likely to know how to coach others.
They are able to see the bigger picture
The best managers are able to understand how the business works as a whole, which gives them the basis for being effective at prioritizing the activities that will drive overall revenue growth and performance. Look for individuals that can think both strategically and tactically.
They work well with others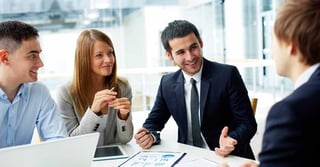 High performance sales professionals tend to be independent individuals that enjoy working alone. However, the best Sales Managers work closely with their team and other people on a regular basis. Look for reps that are comfortable with working with other team members.
They are interested in becoming a Manager
Many of the best management candidates aspire to become Sales Managers at some point in their career. Look for those individuals that are naturally ambitious and are willing to go the extra mile to progress their career.
At CPM we are true believers of growing and developing our people from within. We encourage people to push themselves and broaden their experience, working with different blue chip clients. We are proud that 75% managers are promoted within, demonstrating our commitment to develop people to be their very best. When people start working for CPM, they don't sign in for a role, they start a sales career many progression opportunities.
If you'd like to start your sales career with Ireland's leading sales organization, contact us today at recrutimetn@cpmire.com. Have a look at our current vacancies here: https://apply.workable.com/cpm-ireland/
References:
https://www.thebalance.com/successful-sales-manager-qualities-2917131