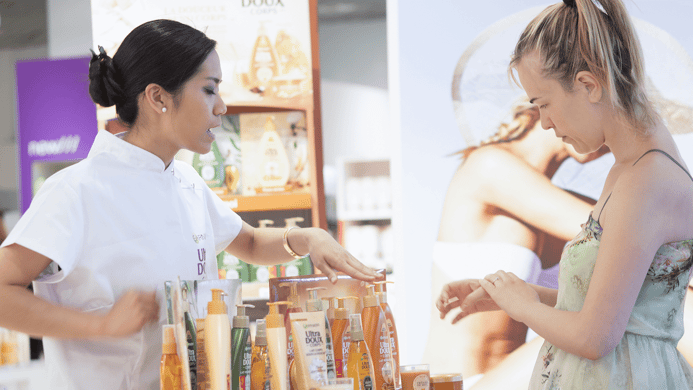 Welcome to our latest edition of Expert Speak, ''How about we tell you how much we can accelerate your sales?" which comes from Véronique Motte, President CPM Group of Companies in France
Accelerate your sales
How about we tell you how much we can accelerate your sales?
A few weeks ago, our teams organised a conference during the 2018 edition of the MPV trade show which took place in Paris. The title of this conference was "The 4 drivers which really influence sales demos performance". CPM France teamed up with L'Oréal France to present real-life feedback from this innovative approach.
Sales demonstrations
True fact: sales demonstrations are a sell-out driver for brands
Deployed on a large scale over 40 years ago, at the same time as mass-market retailing, demonstration days are one of the most popular marketing drivers for brands and also one of the most outsourced. Interestingly, according to a study done by EY in France, it is also one of the most preserved media spends:
Because it is easier to cut incrementally into a demonstration days budget
Brands want and need to stay connected to the field and their shoppers.
For a long time in France, sales demonstrations were a sell-in incentive. Nowadays, being a media in its own right, it is therefore central to the concerns of marketing and sales departments.
Measuring sales demonstrations
Measuring sales demonstrations performance: an innovation on the market
Using sales data provided by L'Oréal and a mathematical equation defined by CPM France's Business Intelligence team, we were able to build a robust statistical model based on linear regression. That's how the ROI-focused approach for L'Oréal Consumer Products Division came into life.
We found out that in order to achieve a specific ROI, four drivers that can influence performance must be taken into account: the product display, the store environment, the promotion and the ambassadors themselves. This proved that when all the right drivers are aligned, the sales demonstrations performance can be accelerated by over 300%.
Reaching new heights…
I cannot express how proud I am of the teams at CPM who have made this possible. We are reaching a brand new level: we were famous for the quality of the field work execution we provided, which has never and will never be easy, but the right people with the right tools help… we are now able to measure for our clients the performance of the activities they outsource with us.
In other words: at CPM, we make demonstration days work. Oh, and by the way we also measure the performance of our other solutions too…
Véronique Motte
President CPM Group of Companies in France