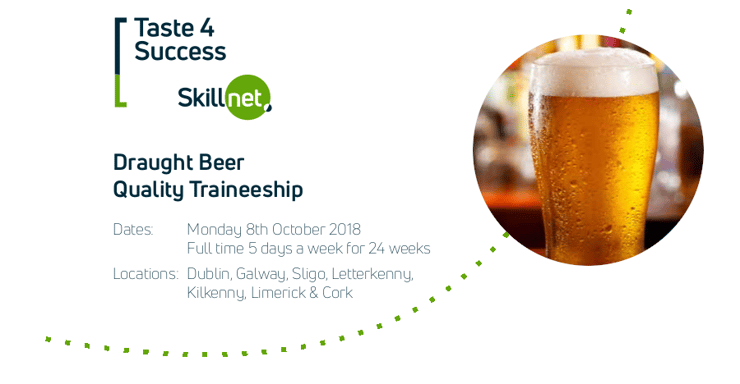 At CPM we are delighted to have partnered with Taste 4 Success Skillnet & PRL for a new training opportunity in Draught Beer Dispense. The name of the programme is Draught Beer Quality Traineeship and will start on Monday, October 8th in Dublin, Galway, Sligo, Letterkenny, Kilkenny, Limerick & Cork.
Those selected to undertake this traineeship, will receive best practice development through classroom training coupled with on-the-job practical experience in pubs, hotels and bars. Trainees will be recruited into different regions and work closely with their mentor to help ensure the best quality product is available on draught at the different outlets in that region.
This traineeship programme will involve both classroom and on-the-job training over the course of 24 weeks. It leads to a Certificate in Quality (Draught Beer Dispense) which incorporates FDQ accreditation aligned to Level 4 on the NFQ. Trainees may be allocated the use of a company vehicle from time to time, and so a full drivers licence is an essential requirement.
The traineeship programme is aimed at job-seekers who are in receipt of job-seekers benefit, job-seekers allowance, or Credits. Potential trainees may also be those looking to commence a career as a quality technician in any Food & Drink industry, or those looking to change career. Those in receipt of job-seekers allowance, benefit or credits will not have their payments impacted, if successful in their application.
If you'd like to know more about this traineeship programme, contact training@taste4success.ie or info@cpmire.com