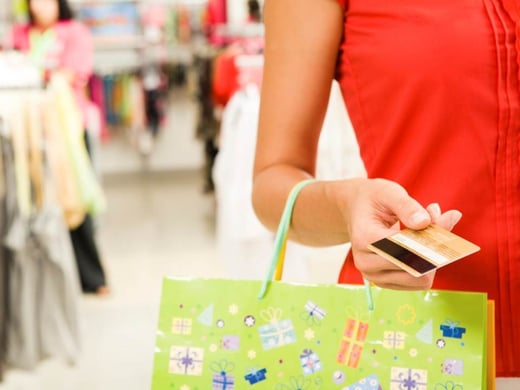 This day last week companies around the world were celebrating CX Day! CX Day is a global celebration of the companies and professionals that create great experiences for their customers put on by the Customer Experience Professionals Association (CXPA).
As part of the celebrations in Ireland some essential customer experience intelligence was released by CXI
Being one of Ireland's leading Outsource Sales Organisations we understand the importance of a good customer experience. A sale is not complete until we have satisfied the needs of our client's customers and so we took it upon ourselves to provide you with a snapshot of the conclusions from this report:
The Overall theme conveyed in this year's CXI report is that Irish customers declare loyalty to brands that genuinely care and this is very evident in the movement of the top 100 brands for Ireland in 2017
What was also great to note is that indications are that Ireland is moving in the right direction as the overall CX Excellence score improved again in 2017.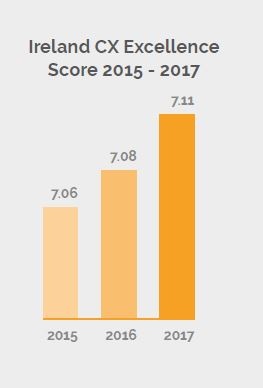 Digital Brands are Excelling through use of data to demonstrate customer needs
Digital brands are enjoying a growth in CX success with five of the top 20 brands in the Top 100 league table are digital brands, with Amazon leading the way at no. 4, jumping a huge 24 places.
What makes the digital brands stand out is their ability to humanise the experience they give customers through the use of data, demonstrating they understand needs and expectations e.g. their recommendations of other similar purchases made to encourage further purchasing.
Culture is Key
The CXI report also noted, culture is key in delivering great CX. Whilst many companies have a customer centric focus, it is those that have engaged their staff and aligned their employee experience with their customer experience that is reaping the rewards.
At the core of this approach is empathy, being able to walk in both the customers and the employees shoes. The CXI top 3 brands – Credit Union, Lush and An Post (who have stayed the same as last year), are also Ireland's most trusted brands in their survey and have some of the highest empathy scores. What is key to the success for all three is how their staff engage with customers, showing that they genuinely care.
Companies who fail to get their CX right will suffer the consequences
Hailo/My Taxi are the biggest faller in the CXI survey this year. A result of the switch from Hailo to MyTaxi their customers had a bad customer experience due to the huge expectations gap caused by the poor introduction of their new app and lack of advocacy from their drivers.
Ryanair's seating allocation issue in the summer also contributed to their fall of 38 places, demonstrating that Irish consumers simply will not tolerate being treated poorly.
Breakdown of CX Success by Sector
The sectors report showed Retail as the most successful with 93% of its brands making the Top 100.
The next best were Supermarkets with 70% and Restaurants with 67%.
Also fourteen new brands were introduced to the 2017 survey. Eight of these made it into the Top 100 including Carraig Donn, Hickey's Pharmacy and Mr Price.
The poorest performing sector was Telecoms (which includes mobile/ landline/broadband & TV providers), with only 14% of brands in this sector making it into the Top 100 league table.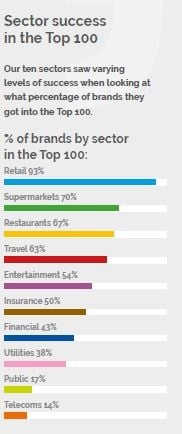 Finally here are some great tips that the CXI Report provide to help you and your business on its way to providing excellent Customer Experiences based on trends from successful businesses to date:
CX Trends
1. Recruit, train and retain sincere and caring staff
Your staff must be sincere in everything they do for customers.
Finding, training and retaining caring talent is crucial in delivering
authentic CX excellence.
2. Share the knowledge to gain the power
Personalisation supported by data analytics is the top trend that will change the CX industry over the next five years. Getting visibility of customer behaviour has significant promise but is very hard to do.
Customer data usually stays within the department it is collected. Sharing this information across all departments is the critical step to drive growth.
3. Open up CX training to your outsourced teams
Customers do not tolerate disjointed CX anymore. 'Immersive CX training' empowers customer facing staff to leverage their own experiences to deliver what customers are actually asking for. Run training across all internal silos and be sure to include your outsourced partners to create a consistent journey for customers.
4. Invest in emotional engagement
Customers won't recall the price they paid or the quality of a product. But they will remember how they felt when they dealt with your company. Over 50% of what a customer recalls is the physical emotional reaction they had after dealing with your business (they smiled, cried, screamed, and laughed). To turn happy customers into sales advocates, give more focus to the emotional experiences you design.
5. Empower your customers to improve their own CX
Encourage customers to use a DIY approach and design what works for them. For example, the utility sector engage customers to design their own tariffs and control their energy usage based on their needs.
Finally, remember Customers develop relationships with humans not technology.
We have definitely seen this at CPM with our clients through our sales relationships with customers. It is the human contact that we provide that has our client's delivering high volumes of sales as at the end of the day for a great customer experience we all love to the opportunity to talk to someone – whether that be online via chatbots, over the phone or face to face.
For more information on how CPM can help your company improve customer experience and in turn improve sales performance for your business contact us today