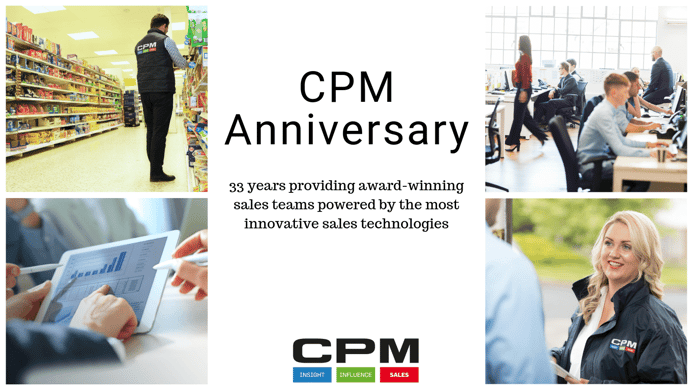 CPM is delighted to be celebrating its 33rd year in Ireland as the leading provider of outsourced field sales solutions. CPM Ireland established its presence in August 1986 and we now span over three decades of experience with a multitude of indigenous and multinational companies across all industries.
CPM Ireland forms part of CPM International, which has been providing outsourced field marketing and sales for over 80 years in over 35 different countries. CPM provides a wealth of services such as direct & retail sales, merchandising, mystery shopping, auditing, hosting & promotions, customer activation, contact centre services, recruitment; and all tailor made to help clients deliver on the growth objectives.
CPM's mission is to grow our client's business using insight to create influence to drive sales. We use insight to influence and drive sales through our specialist field sales and marketing teams, contact centres and digital marketing solutions. We empower our people through our values of Freedom, Innovation, Excellence, Respect and Integrity.
CPM are a people business supported by technology. We consistently pave the way for technological advancements in the sales industry. We have invested €1m a year over each of the past three years in the development of our data and analytics capabilities, which have inherent machine learning and artificial intelligence capabilities built into our tool kit. Being part of a global sales outsource organisation exposes CPM Ireland to ongoing innovation, technology and ways of working across global markets. We consistently bring best global practice to our Irish clients to help them create a leading edge in the Irish market place for their brands.
Award-winning Outsourced Sales Agency
Over our 3 decades in the Irish market, we have been rewarded several times by the most eminent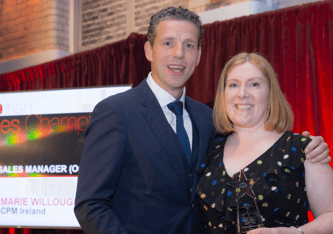 awards ceremonies, including the Irish Sales Champion Awards, The National FMCG Awards, The National Retail Supplier Awards and The Ulster Grocer Awards. Last year we were honoured to be recognised as the Irish Champion Outsource Sales Partner of the year, as well as being rewarded the Best Implementation of Sales Technology Award both presented by the Irish Sales Champion Awards. On multiple occasions, the industry has also recognised our sales teams, sales managers and individuals for their exceptional results, unparalleled work ethic and most of all their endless passion to deliver sales.
Here are a few fast facts to show you the scale and scope of what we deliver:
In CPM Ireland, we manage

up to 1000

employees - who are the face and voice of our clients

E

a

ch year we deliver

more than €200 million in sales revenues for our clients
Each year we spend over 133,000 hours in stores for our clients
We are proud to have worked with over 80% of our clients for more than ten years.
CPM International will make more than 15 million visits to retail stores every year
CPM International will carry out over 1.5 million sales demonstrations and sampling days every year
CPM's contact centres engage in over 27 million customer conversations every year
If you'd like to know more about CPM Ireland and how we can help you to achieve outstanding sales results, contact us today! Email info@cpmire.com or call 01 7080 300