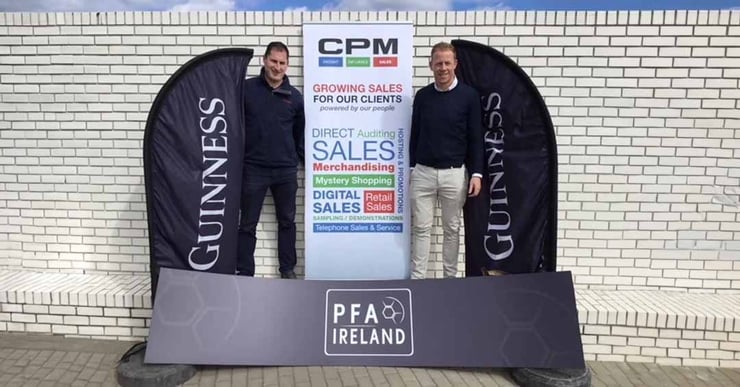 At CPM we are delighted to announce our partnership with the Professional Footballers Association of Ireland (PFAI), which will see PFAI members apply for a number of part-time Christmas roles nationwide with CPM, Ireland's leading Field Sales company.
In a period where the majority of footballers find themselves in the situation of looking for employment to bridge the gap between the end of the season to the start of a new campaign, this is a perfect fit for the players.
Colin Hawkins of CPM stated, "As Regional Manager on the CPM Diageo Take Home Trade team, I am hugely excited by this link up with the PFA Ireland. As a former player and member of the PFA Ireland, I can remember only too well the long winters when there was no income from football in the off-season due to 40-week contracts. There are a number of roles available nationwide from Diageo to PepsiCo to Britvic which we see as being perfect for the players as they are young, fit, enthusiastic and possibly at a crossroads where they are seeking part-time or full-time employment to go alongside their football contracts."
PFA Ireland General Secretary, Stephen McGuinness commented, "We are delighted to be able to put this opportunity of employment to our members through Colin and CPM. We all know the difficulties the players face during this period where they have no income from football and are looking to bridge the gap to hopefully their next contract".
This is a great opportunity for PFAI members and it may lead to full-time employment outside of football.
For more information about the roles available as well as expressions of interest, email our recruitment team at recruitment@cpmire.com with your CV attached.