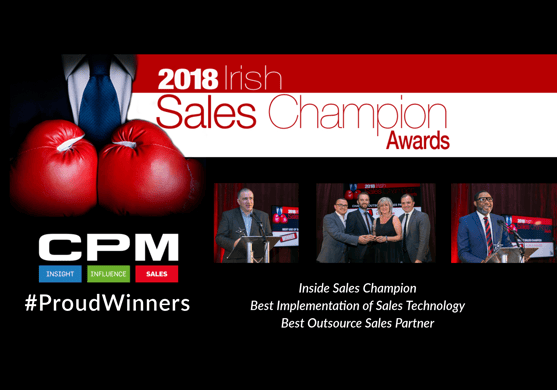 CPM is the proud winner of the Best Outsource Sales Partner award, Best Implementation of Sales Technology award and Inside Sales Champion award
We are delighted to share with you all that CPM has been rewarded at the 2018 Irish National Sales Champion Awards, which were held yesterday evening at the Guinness Storehouse. CPM brought home not 1 but 3 prestigious awards across different categories!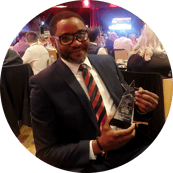 The first recognition received was for Kunle Akande, Mid-Market Account Manager for eir, who took the Inside Sales Champion award. We'd like to take the opportunity to congratulate Kunle for the fantastic work he does every day, as well his positive attitude and great attention to detail and quality. Kunle is not only a top performer who is committed to delivering an excellent customer journey, but he is also a team player and a key member of the eir Inside Sales team.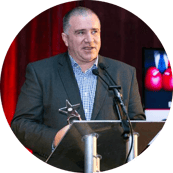 CPM apply a People supported by technology approach to how we execute & win for our clients. We lead the way in the Irish & Global market by continuously introducing new cutting-edge innovations to our clients-partners, ultimately optimising their sales performance. Our excellence in this field saw CPM being awarded the prestigious Best Implementation of Sales Technology award. This category recognises the implementation of a quality sales support solution that demonstrates clear business benefits and return on investment. At CPM we implement the best technology available in the market to drive benefits for our clients on multiple levels.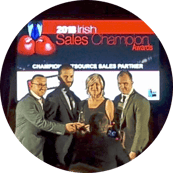 And last but not least, CPM are proud to say that we coveted the most prestigious award on the night - Best Outsource Sales Partner! Our partner eir were instrumental in demonstrating the partnership CPM & eir have developed over our 17-year relationship & we thank them for their continued support & are proud that the success we have achieved together has been so highly recognised. CPM offers an end to end solution to eir in multiple channels such as Field Sales for their Residential and Business sales, Inside Sales, Back office support and Consumer Customer Care. We are extremely honoured of this accolade as it recognises the excellent work that our people across all elements of our business - field, contact centre, shared service centre and office- do day in and day out, delivering great results on behalf of our clients.
CPM has also been recognised in previous Irish Sales Champion Awards, in the categories of Field Sales Champion, Field Sales Manager, Best Use of Sales Technology and Best Sales Support Technology.
CPM is Ireland's leading Field Sales specialist. We are an award winning, omnichannel, outsourced sales agency, with a proven track record for increasing sales not only in Ireland but around the world. We use insight to influence and drive sales through our specialist field sales and marketing teams, contact centres and digital marketing solutions. If you'd like to know more about our successes at the 2018 Irish Sales Champion Awards or find out how CPM can help your business to drive sales, contact us at info@cpmire.com or call 01 7080 300.