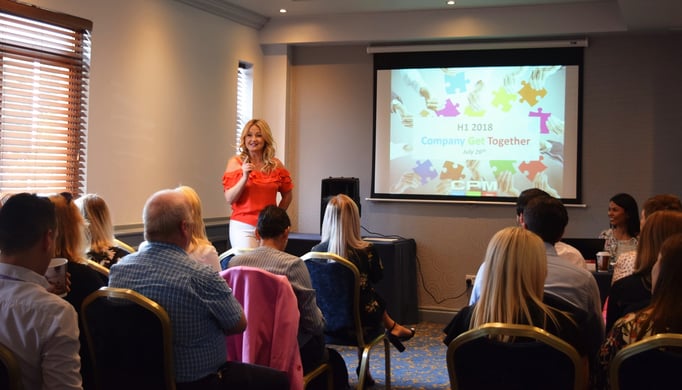 "'It is such a happiness when good people get together -- and they always do.'" – Jane Austen
Last week CPM held their Half-Year Company Get Together, at the Ballsbridge Hotel. During the half day session the teams celebrated the great achievements obtained during the first half of the year while preparing for the next months to come.
It was a fantastic session with insightful activities, followed by BBQ and drinks, where the great work being done across all the areas of the business was recognised and celebrated.
At CPM we are a strong believer that good teamwork creates synergy, where the combined effect of the team is greater than the sum of individual efforts. We share an ethos of work hard and have fun, bringing everyone together to achieve our goals, whilst embracing the spirit of CPM. We know that when people enjoy their work they deliver amazing results. As Ireland's Leading Field Sales Company we understand that having a strong, cohesive team is paramount to our success and to drive sales on behalf of our clients.
Here are some of the reasons why we believe it's so important to host company events with your employees:
Company events are more than just

a fun time for employees to gather. These activities are proven to

improve communication among the team members, build trust, reduce stress levels while creating the perfect environment for employees to foster genuine bonds.
As a field agency, many of our employees are based on our clients' offices so these events are a great opportunity for everyone to meet in person, "put a face to a name" and get to know each other outside the office.
It's also very positive to see people from different departments working on activities with colleagues from other areas of the business that not necessarily have much interaction with each other at the workplace.
There is no better way to give an instant boost to employee morale than with a company event, as usually at these gatherings employees can have a better understanding of the business goals, feel proud of the achievements obtained and see the bigger picture.

Company events help validate your employees, promote creativity and create more focused teams.

Depending on the activities planned for the session, companies can address different key skills at the workplace and work around them to have better results as a business. Some of the skills that are usually tackled are communication, planning, problem-solving and conflict resolution.
Have a look at some of the photos of our Company Get Together:
If you would like to be part of our great Award Winning Teams, check out our latest job opportunities here: https://jobs-cpmire.icims.com/