We are delighted to announce that CPM, in partnership with Lucozade Ribenna Suntory, has been shortlisted for the prestigious Ulster Grocer Marketing Awards 2017, in the categories of Best New Product Launch for Lucozade Zero and Best Brand for Lucozade Energy.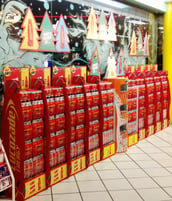 The winners will be revealed on May 19th at the Culloden Hotel in Belfast. For this year, the award features eight categories designed to showcase the very best that the local food and grocery retail industry has to offer.
Through an intensive targeting of key stores and constant efforts to increase brand presence, the CPM team in conjunction with LRS have managed to smash the targets set for both campaigns.
We didn't want to pass this opportunity without sending a massive congratulation to all the team involved in these nominations as well as recognising their hard work, ambition and influencing power through strong store relationships and consultative negotiation skills, as well as creativity on behalf of our merchandisers in store that ensured high impact visibility for customers resulting in sales growth for our retail partners.
Our fingers are firmly crossed for our team and we will keep you posted with any updates! May the best candidate win! Stay tuned for the results!