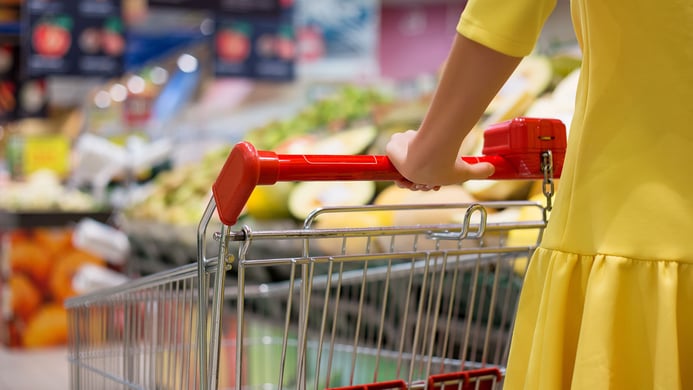 FMCG Insight
Our FMCG Sector Insight comes from Johann-H Nagel, CPM Germany CEO.
Johann made his way through different roles in the FMCG industry over the last 25 years working for P&G, GlaxoSmithKline, Sara Lee and Polaroid. Before joining CPM Germany he was a partner in a sales and marketing focused strategy consultancy. During that time the grocery landscape in Germany faced major changes. The therefrom arising opportunities for manufacturers had been one of his subjects in the consultancy in terms of field sales efficiency and sales organization.
Survival of the fittest in a world where Discount Channel has 40% Market Share
Aldi started the discounter success story in the early 60th of the last century and is aiming for global coverage. Side by side with Lidl – the other big German discount player – Aldi drives the growth of the discount channel through market entry and agglomeration. Their clear target is to keep the consumer at arm's length.
Discount value share in Europe is close to 25%. Frightening? Maybe, but surely that's not the end of the game.
The discount channel has a 38% market share in Germany, which is stagnating for ten years.
There are two major reasons for stagnation:
Discounter in Germany is keeping the consumer at arm's length but still represent a weekly shopping destination for the majority of the 36 million households
Traditional retailer learned to adapt by introducing private label products comparable to the "Aldi" price level (Aldi native) and play the card of wider/deeper assortment and high-level store ambience
Searching for growth Aldi started to copy the Lidl assortment strategy and opened its shelves for brands – mainly A-brands. Those brands which started new with Aldi faced a price thunderstorm in a case comparable pack sizes were affected. Everybody wanted to undercut Aldi. Red Bull e.g. suffered heavily in terms of average shelf price erosion, others faced delisting at traditional retailers.
Learning number 1 for brands: Differentiate your base offer for a discount –pack size….! (Obvious?)
Learning number 2 for brands: Differentiate your service level
Learning number 3 for brands: Communicate
While learning 1 should be a fundamental part of the discount strategy of A-brands, learnings 2 and 3 can also be applied by B/C brands in their attempt to focus on the business outside discount which is still 62% of the German FMCG market.
FMCG sales force
Focus is the name of the game. Focusing on your FMCG sales force is the answer on how to survive outside and without discount channel listing. A well trained and staffed sales force will drive your brands through on-shelf visibility and extra class secondary placements. The sales force will be able to place extra promotions and benefits that help the retailer build shopper experience and sharpen his profile. A key driver for your own and your retailers' revenue.
Proper communication of your discount channel activities through your sales team to the "other retail world" combined with exclusive offerings that help to strengthen positioning of the retailer will build trust and mutual understanding.
This clearly demands feet on the street visiting those retail doors that are key to your overall brand strategy. Outsourcing – covering stores with external sales people - must be a vital part of your overall sales strategy to ensure distribution and visibility of your brands at reasonable investment level.
Welcome to the club of the fittest!!
Contact us to find out how we can help drive sales for your business