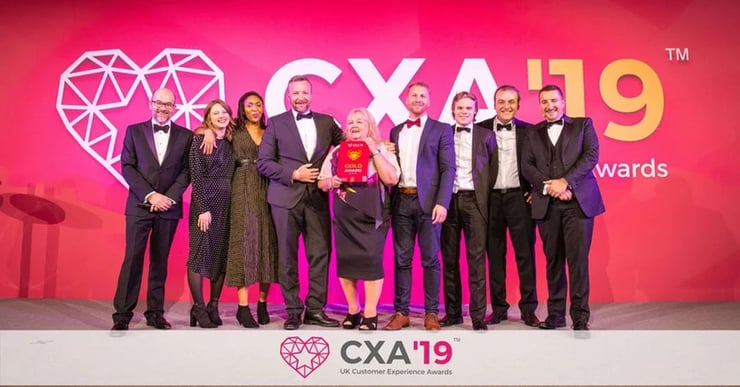 October, 22nd 2019 – Barcelona
CPM Barcelona takes home Gold Team of the Year Award and Silver Business Change & Transformation Award at UK Customer Experience Awards 2019
We are thrilled to announce that CPM's International Contact Centre in Barcelona took home Gold in the Team of the Year Award category and Silver in Business Change & Transformation Award category at the UK Customer Experience Awards (CXA).
The 10th edition of the CXA recognised those inspiring organisations who enhance their customer experience in many innovative ways and achieve tangible results from the initiatives that have been implemented. Winners were announced at an awards dinner soiree and ceremony held at Wembley, London on the 10th October.
Following gruelling finalist presentations, competing against 7 other shortlisted agencies; CPM were announced winners as Team of the Year category in recognition of our Talent & Development team's outstanding commitment, passion and focus in bringing to life CPM values of Freedom, Innovation, Excellence, Respect and Integrity by encouraging our people to challenge themselves and broaden their experiences.
"I am delighted that our Talent & Development team's passion and the proven best practice approach they have created has been commended by industry experts. Congratulations to the entire team for the ongoing hard work and dedication" said Annette John, Business Unit Director at CPM Barcelona.
Likewise, CPM Airbnb Team won silver in the Business Change & Transformation Award category, beating 8 other nominated competitors. This recognition highlights the brilliant job of our Transformation Team in changing the future by building on our past and by empowering our smartest people and letting them shine, achieving an impressive 650% Airbnb campaign growth in 6 years, and transforming the way we empower out people to grow and develop.
"I am very proud of my talented Transformation Team; our innovative and creative approach to transforming core working processes has been recognized by both our partner Airbnb and by top industry professionals. A heartfelt thank you to the Airbnb Transformation Team, " said Tom Johnston, Business Unit Director at CPM Barcelona.
"CPM is committed to continuous innovation in consumer engagement and driving operational excellence in Customer Experience (CX) and Sales. These awards acknowledge the amazing success of our teams and their innovative approach to CX. I would like to congratulate all of our short-listed and winning teams and commend their unwavering focus on delivering customer experience excellence," says Fiona Whelan, Managing Director, CPM Barcelona
About UK Customer Experience Awards
The UK Customer Experience Awards has grown exponentially to become the biggest CX event of its kind in the world. This year the awards are bigger and better than ever as the event is celebrating its 10-year anniversary. The awards are unique in that the finalists also present their entry live on the day of the finals to a panel of independent judges, ensuring the fairest and most transparent scoring process possible. The UKCXA has been accredited with the prestigious Gold Awards Trust Mark from the Independent Awards Standards Council.
About CPM International Contact Centre - Barcelona
CPM Barcelona, as part of CPM Group and a member of the Omnicom Group, is an international contact centre delivering outsourced customer experience and sales solutions on an EMEA-wide basis. CPM specialises in the delivery of omnichannel customer engagement solutions for global clients spanning High Tech, Consumer Electronics, FMCG, Automotive, Retail and Travel industries and currently covers 26 languages across 71 markets.
For further information, contact:
Rachel Doyle | M: +34 638 140 620 | E: Rachel.doyle@es.cpm-int.com