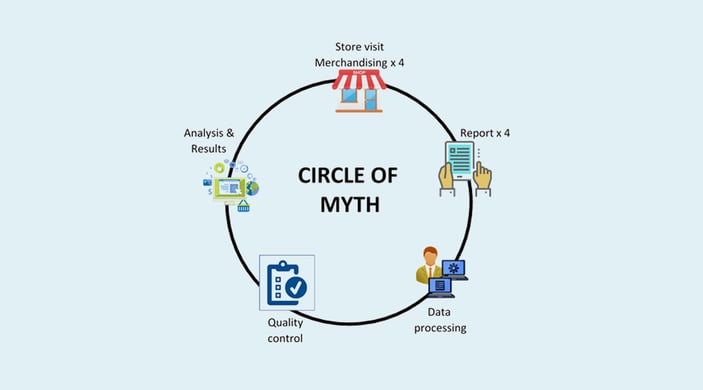 Merchandising and auditing
For years of working in the Field Marketing industry, I have experienced that Brands utilize merchandising and auditing tactics to actually visualize their products at retailers. However, I always ask myself a question: "Do they really make an efficient investment?"
From the traditional...

In any product visualization project at Point-of-Sale, it is easy for every field marketer to propose a traditional execution plan which includes a two-phase process:
Merchandising phase: Basically, this action is done by the Field Sales team with the mindset of saving costs and incidental tasks of daily sales visits. On the other hand, Brands have to acknowledge that they cannot measure the effectiveness of product displays on a daily basis and can sometimes be slow to react to the market in order to improve their brand image or share of shelf.
Auditing phase: Brands who want to effectively measure with those stores also hire an agency to field judge to ensure the balance between brands' benefits and stores' benefits.
Negatively, there were so many cases in which Brands found out that there were alignments that had been made and agreed informally among stores, auditors, and salesmen. Instead of fully arrange a certain on-shelf shares in stores for paid Brands throughout months, store owners only displayed those products during auditing days, which was only a few days in a month. In this stage, Brands' benefits are put at risks while they are experiencing increasing in cost of both merchandising and auditing, not even mentions to in-store product visibility cost but they still do not have sustainable on-shelf shares.

Solutions? Yes, many Brands choose to outsource merchandising teams via their distributors with the hope of putting brands' benefits and distributors' benefits on the same boat. Yet, they are wrong. Distributors in Vietnam are different, and I would say, they certainly do not care about products' visibility. Distributors are happy with this model because they have free labor source to leverage daily workload such as delivery, sales for others products, moving goods and less of store's merchandising tasks. Unfortunately, Brands have no control over these things other than they have to scope with this.
The jump in technology in retail marketing
In the reign of techniques and developments, many Brands have transferred themselves and threw into field automation. Techniques help us release stress and a lot of paper works, data transfer and manual analytics, and reporting deadlines. Vietnam is not out of this trend. Few agencies, including CPM Vietnam, have developed Cloud Reporting: field application and web reporting to fulfill Brands' demands: real-time reports with instant actions, evaluation dashboards, stores' histories, etc.

How does it work?
Cloud Reporting is a combination of two platforms: field application and web reporting and is synchronized via a cloud server.
In-mobility application: Fieldsmen need to install this application into their mobility such as smartphones or tablets. This application acts as a virtual office for them to submit every requested report on field such as display status, in-store promotion compliance, stores' feedback, photos, and even capture out-of-stock. Because of the out-of-stock reports, their sales team now can surge their sales opportunities into stores and reduce no product visibility.
Web report: Whenever fieldsmen upload their report into cloud server, Brands can view the market's evaluation at an instant. Now, Brands are more than happy to not gain their wished shelf-shares, increase sales volume but also to view the market's situation at-a-time with fieldsmen works and made proper decisions.
Beyond consumer expectations
The wheel of CPM Vietnam services must keep rolling. I never feel satisfied, if yes, I should have gone behind and lost our competitive advantages. Consequently, I think why don't we combine merchandising and auditing and go beyond consumers' expectations!
Nevertheless, I must assure that Brands must increase their benefits and maintain fair evaluation for every stores at every month payment. Challenges are how can we convince Brands to change their mindsets of separating merchandising and auditing and how can we gain store owners' trust from our monthly display judgment?
The innovation...
The concept is as simple: Merchandisers will visit each store four times per month, which is once every week to support store to display goods as said planogram, record store's display status, current stock level based on the required quantity of each SKU, and take photos of that visit as proofs. Then, these data are processed through an auditing team to calculate average stock level, display position, POSM out of four times visits compare with the requested planogram if the percentage is more than 80%, store is considered achieved. Of course, unsuccessful visits such as temporary closed, store do not wish to continue are also be recorded and be taken into consideration.
Technologies have played an important role in this concept as it records and keeps all data in one place: Cloud server can be able to export into excel files at no efforts. CPM Vietnam can keep its reporting deadline with their clients. More important, Cloud Reporting can be developed and customized to follow the needs of every client and organization, so that, they do not afraid of not being able to deploy this concept into their business. Come to this point, to be or not to be?
Benefits, of course, benefits
In any circumstances, a concept that is applicable should go along with benefits to our clients. Which benefits would Brands take into consideration by deploying this concept into their benefits? Obviously, in this concept, we eliminate the auditing phase, and of course, Brands can save money by not spending on auditing. In addition, benefits which Brands can obtain from are:

* Enhance their shelf-shares in-stores
* Maintain frequent, sustainable, and certain display area within stores
* Increase brand image and brand awareness in general trade market
* Data and historical is controlled and monitored in one platform: Cloud reporting
* Increase sales opportunities by out-of-stock real-time reporting directly to the sales team
* Store is taken care of more than ever
* Cost-effective and can be measured
* More market insights gain together with fast market react

Anything else that Brands can wish for?

In Vietnam, currently, CPM Vietnam has been successful in launching this concept with some key clients. Our clients are very entertained when they see mass converting in-store owners' displaying habits when they more care about their products and enjoy a continuous increase in sales volume.
Act now or never…
By leveraging this concept, CPM Vietnam is able to root our business into clients' business because we keep our client's data safe and secured in one Cloud server. Moreover, by joining with clients' sales team, and gain a sustainable relationship with stores, we are now the eyes and ears of our clients in-store to keep them update in this Fast Moving Commodity industry.

I believe other brands will recognize the competence of this concept and looking for an agency that is capable of consistent execution and quality maintenance. CPM Vietnam currently is a leading agency in the market in this field, we are gaining our expertise to improve our services and are ready for the next successful clients.