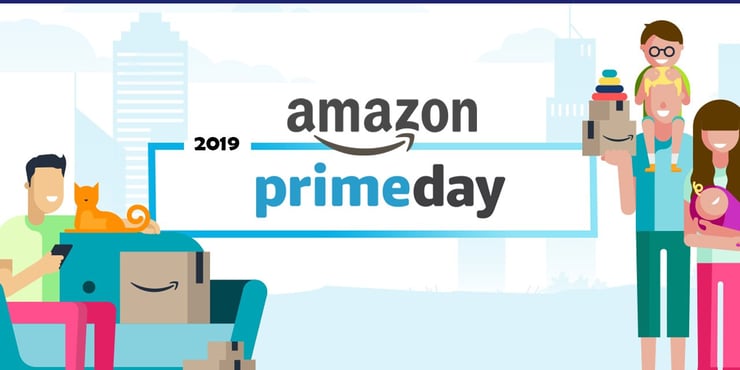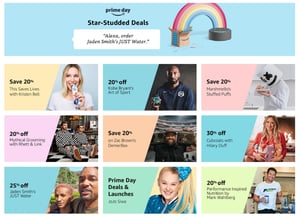 Another Prime Day has passed and so has the madness to get the best bargains at the e-commerce giant. Amazon Prime Day started in 2015, in honour of the website's 20th anniversary, and since then the shopping event's popularity has grown across the globe. This year Prime Day took place from July 15th to 16th, across 18 countries and lasted 12 hours more than last year's event.
The event features a large number of sales and promotions that are exclusively available to Amazon Prime subscribers, with more than one million deals offered this year. To introduce the event, Amazon aired a live "Prime Day Concert 2019" exclusively for Prime members, on July 10, featuring Dua Lipa, Becky G, SZA, and Taylor Swift, which was aired from millions of members.
Despite the 2-day event was tied to protests of Amazon's employees, the 48-hours extravaganza was a success. Some highlights of the shopping event:
Prime members purchased more than 175 million items, from devices to groceries, and saved more than one billion dollars.
Prime Day was the biggest event ever for Amazon devices – top-selling deals worldwide were Echo Dot, Fire TV Stick with Alexa Voice Remote, and Fire TV Stick 4K with Alexa Voice Remote
In the US, the e-tailer showed its continued dominance, with its share of transactions across the 50 top retailers soaring from 72% during the 2018 Christmas holidays to 86% this Prime Day.
Over the two days of Prime Day, on July 15 and 16, sales surpassed the previous Black Friday and Cyber Monday combined.
Millions of items shipped in one day or faster using Prime Free One-Day, Prime Free Same-Day, or Prime Now worldwide – making it the fastest Prime Day ever.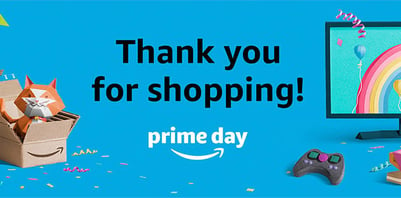 Customers worldwide used the 2-day shopping event to make their house smarter by purchasing millions of smart home devices. Top-selling deals included iRobot Roomba 690 Robot Vacuum, MyQ Smart Garage Door Opener Chamberlain MYQ-G0301, and Amazon Smart Plug. Also it was the biggest event ever on Amazon for Alexa devices with screens, such as Echo Show and Echo Show 5. Also electronic purchases were soaring with tablets, Kindle devices, smart TVs and kids' devices, being the preferred options.
According to Goosed.ie, 34% of people in Ireland shop on Amazon.co.uk. Prime Day performed exceptionally in the UK, with over 80,000 Prime sign-ups per day over the 48-hour flash sale. The top items purchased in the UK were Sony PlayStation Classic Console, Oral-B SmartSeries Electric Toothbrush, and Shark Vacuum Cleaner.
With Prime Day, Amazon not only encouraged and rewarded his members, but also gave us a great lesson on the importance of being transparent about pricing and obsessed with the customer experience and customer reviews. In a brilliant move, Amazon offered $10 credit to Prime Day shoppers who installed Amazon Assistant, a comparison-shopping tool that customers can add to their web browsers. It compares Amazon's price for products against other retailers.
In order to work, the assistant needs access to users' web activity, including the links and some page content they view but also gives access to Amazon to the users data, which the company can use to improve its general marketing, products and services, unrelated to the shopping assistant. Showing that users are willing to share their personal data to easily be able to compare prices and reviews with Amazon while shopping on the web.
At CPM we have a passion for growing brands and increasing sales, working in the retail sector since 1986. Our expert teams specialise in the science of selling in the retail sector. We attract the best talent and motivate and manage them in the right way to ensure the delivery of best in class quality service and high-performance sales.
If you'd like to know more about our services and how we can help you to grow your brand, contact us at info@cpmire.com
References:
https://goosed.ie/amazon-shopping-in-ireland/
https://press.aboutamazon.com/news-releases/news-release-details/alexa-how-was-prime-day-prime-day-2019-surpassed-black-friday
https://www.impactbnd.com/blog/alexa-what-did-you-learn-from-amazons-historic-prime-day-2019
https://www.businessinsider.com/amazon-prime-day-pricing-glitch-shoppers-save-thousands-2019-7?r=US&IR=T