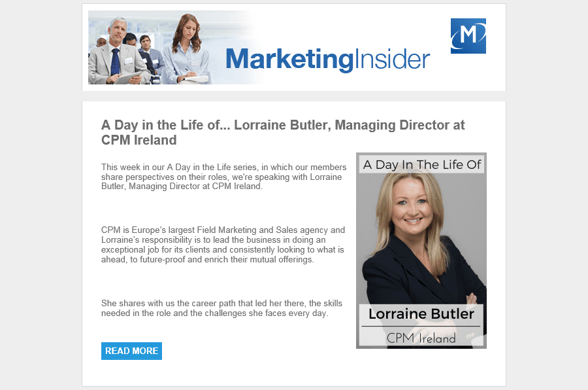 We are delighted to share that Lorraine Butler, Managing Director at CPM Ireland, feature in this week's edition of the Marketing Insider, in the series called "A Day in the Life", in which the members of The Marketing Institute share perspectives on their roles.
In the article, Lorraine shares the career path that led her to her current role with CPM, the skills needed in the role and the challenges she faces every day.
Don't miss this inspirational and insightful interview:
The Marketing Institute: What does a Managing Director at CPM do?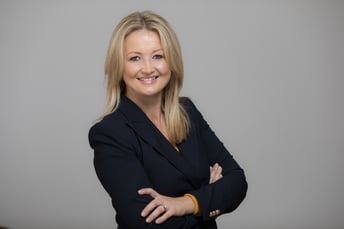 Lorraine Butler: CPM is Europe's largest Field Marketing and Sales agency where we provide outsource sales teams for leading brands such as eir, Britvic, GSK, Lucozade Suntory, Microsoft, Diageo and many others. My core responsibility is to lead our business, in both doing an exceptional job for the clients we represent in market and consistently looking to what is ahead, to future- proof and enrich our mutual offerings. As I am fortunate to be part of a large international group, I have world-class expertise to leverage in support of driving our business forward and we work hard at collaborating across countries to benefit our clients and our business. CPM operate with the ethos that our people are our most important asset and I am blessed to be surrounded by fantastic people, both locally and in our wider CPM network.

MII: What were your key career moves to get to your current role?
L.B: After studying Computer Science, I spent a couple of years in the recruitment industry & software industry and then moved to eircom as an Account Manager. I progressed through roles and ranks there, until I became responsible for Ireland's largest B2B Sales team for eir. After completing an MSc. in Leadership & Management Practice and 14 great years with eircom and then eir, I felt my next challenge awaited and running a Sales company end to end was an offer that really appealed to me.

MII: What is the biggest challenge you face in your role?
L.B: People are our business and we work tirelessly to ensure we attract, nurture and develop great talent. However, in a market where the unemployment rate is one of the lowest this century, and set to fall again, attracting good talent takes substantial time and effort. While our staff retention rates are very strong, our business is growing and, as a result, we consistently look for additional talent to join us. We will not compromise on excellence, however, so the journey in waiting to find that right person for the role, can be longer than we would like.
To read the full interview, click here.