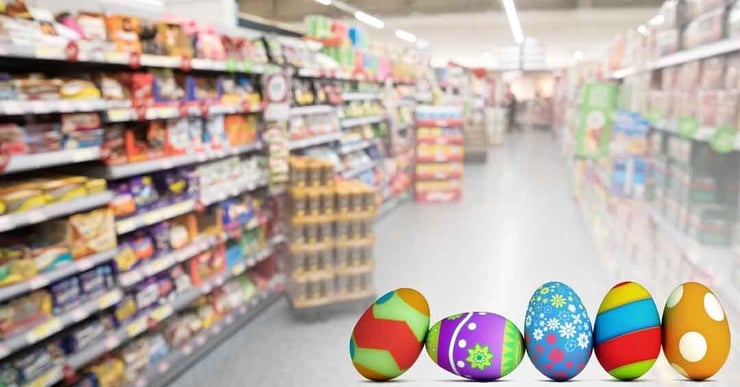 Easter weekend is a crucial time for retailers to bump up their sales. The holiday is one of the largest events of the year for food, second only to Christmas. The four-day holiday gives consumers extra time to shop, with several categories benefiting from the festivity.
Among the categories that experience an increase in their sales are grocery, gifting and furniture. Also, summer clothing and garden equipment sell well as the warmer weather hits.
However, this year it's expected that the freezing weather could cause a 15% drop in retail footfall over Easter, according to The Irish News. The extreme weather conditions may result in consumers postponing or cancelling shopping trips, whilst also delaying household spending on garden products and home improvements. Also, grocery trips to stock up for the Easter period may take place earlier in the week, instead of Friday and Saturday.
It's still not confirmed if Ireland will see the return from the Beast from the East but hopefully it won't and if the weather remains mild this Easter weekend, consumers are also likely to visit garden centres and furniture outlets to refresh homes and gardens, and to fashion stores to browse Spring ranges.
Last year retail sales values, excluding bars and car sales, increased by 3.3% on the same period in 2016, building on value growth of over 3% in the first four months of 2017. Easter favourites were the big winners of last Easter with sales of hot cross buns rising in the period by 24%, Easter eggs by 9% and fresh lamb by 10%.
Three quarters of the population treated themselves to at least one Easter egg! Retailers knew how to leverage this bonanza by offering more premium options to convince customers to add something a little more expensive into their shopping trolleys.
At CPM our mission is to grow our clients' business using insight to create influence and drive sales. We have over 30 years' experience providing Field Sales Solutions in the Irish Retail Market and use the power of this information and experience to determine the best outcome for in-store activities particularly during seasonal peak selling periods.
Contact CPM today, to see how you could drive sales for your brand, during seasonal peak selling periods. For further information call 01 7080300 or email info@cpmire.com
References:
http://www.retailireland.ie/IBEC/Press/PressPublicationsdoclib3.nsf/wvRINewsByTitle/late-easter-drives-growth-in-april's-retail-sales-29-05-2017?OpenDocument
http://www.irishnews.com/business/2018/03/26/news/freezing-weather-could-cause-15-drop-in-retail-footfall-over-easter-1286455/
https://www.businessworld.ie/news-from-ireland/Irish-shoppers-indulged-at-Easter-according-to-supermarket-figures-568297.html